The holiday season is a time of year that reminds us of what matters most: family, friends and human connection. The last two years have brought waves of unexpected change that have altered the way we live, work and interact with one another. The challenges have been real, but I also believe that there are some teachable moments to be found as well. In other words, it's still possible to find good things and uncover hidden silver linings in whatever life throws our way.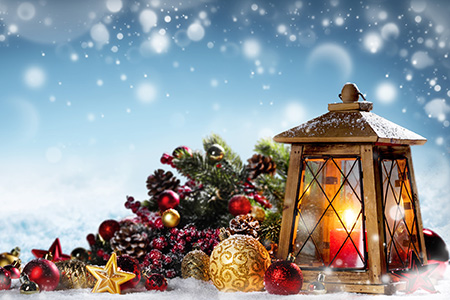 It's an idea that's echoed in my favorite holiday classic, A Christmas Carol. The story follows a self-serving workaholic named Ebenezer Scrooge who values money and profits above family and the well-being of his workers. It's this shortsighted view that ultimately leads to him missing out on life's greatest treasures—love, friendship and true joy. But when three Christmas spirits give him the opportunity for redemption, Scrooge digs deep and changes his ways. He essentially reevaluates his life, consciously turning to generosity, kindness and compassion. Don't we all want to live a life that's aligned with such values?
A Christmas Carol has a lot to teach us about personal growth and authentic living—two important factors that drive effective wealth management. Here are some key takeaways that apply directly to our financial lives.
Life is Short
This concept has been front and center during the pandemic, which has majorly disrupted the way we live, work and socialize. If there's one lesson to be learned here it's that life is fleeting. Like Scrooge's journey, many of us have felt nudged to reevaluate what we really want out of life. It's little wonder we've seen a surge in early retirement. More and more people are seizing the moment and choosing to live their best lives, whatever that looks like.
For some, it may mean starting a new business or expanding their family. Others may feel inspired to change their career, travel or relocate to a new city. It's a positive trend that's empowering people to embrace a new way of living. As a longtime financial planner, I can't overstate the importance of adequate financial planning—it's a critical part of making a successful transition. The right strategies can put you on the path to living the life you want.
We Can Use Our Money for Good
If Scrooge taught us anything it's that money can't buy happiness. In the end, our relationships are what count the most. With that said, it's also important to recognize that wealth can still enrich certain aspects of our lives. For example, the pandemic may have inspired you to invest more in meaningful experiences over material things. This could mean starting a new tradition of taking an annual family vacation together. Alternatively, you might choose to use your wealth to help cover a portion of your grandchildren's education. You might even feel compelled to buy a new boat or RV that can be used for family adventures.
What we're getting at is that money can be a powerful tool for creating new memories or helping people who need it most. We see this idea come to life at the end of A Christmas Carol when Scrooge happily begins giving his money away to those in need. Giving to charity can be a heart-opening experience for both parties. An experienced financial advisor can show you how to create the most tax-efficient strategy for doing so.
There's Always an Opportunity for Growth
Scrooge could have continued on with the selfish way he'd been living, but he ultimately chose to do the hard work of growing and evolving. As we continue to navigate a global pandemic, many of us are in a similar position. Do we keep doing what we've always done, even if it's no longer serving us? Or do we take a chance and branch out in a new direction? Soul-searching takes many forms, but you may be feeling inspired to rethink the core parts of your life. This isn't always easy, but the main takeaway is that challenges can be a good thing. As Scrooge taught us, they can often be the catalyst for positive change and a new life path. We're here to help you iron out the financial details of walking that path.
I can't help but notice these gems of wisdom when participating in one of my favorite holiday traditions—watching Charles Dickens's A Christmas Carol. It's full of so many life lessons, especially today in light of all the changes we've experienced together. Our family at JJ Burns & Company wishes and prays that our country can find the kindness, compassion and love we need to have for each other and the things we hold dear. Even Scrooge found a way to see things differently and live a more meaningful life.
From our family to yours, JJ Burns & Company wishes you a very happy and safe holiday season! We look forward to helping you grow in 2022 and beyond. Reach out to us today to get your next financial planning session on the books.
A Christmas Carol financial planning