Over the years, I've walked beside clients as they've navigated all sorts of life events, big and small. One of the greatest lessons I've learned is that effective wealth management is about more than just handling investments and making financial recommendations. This kind of limited thinking leaves out the most important part of my job, which is understanding that we're all human. We all face challenges and need support that comes from a place of empathy. The other essential ingredient is experience and knowledge. When seen through this lens, a strong financial advisor can be one of your greatest resources.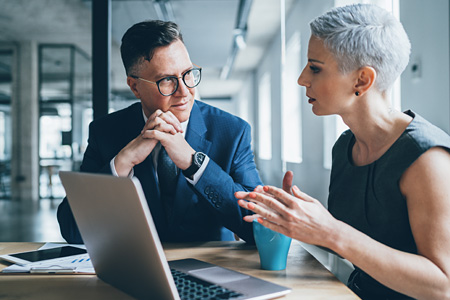 At JJ Burns & Company, we put ourselves in the client's shoes, take a 360-degree view of their situation, and give financial advice that's tailored to their unique goals—and that is the true secret behind successful wealth planning. It goes way beyond portfolio management. It's about giving financial guidance that leads to a better quality of life. Here are some common ways that plays out.
More Effective Planning for the Future
The right work-life balance will ideally tick off three boxes:
Give us freedom to enjoy our family and friends, hobbies, and downtime
Provide satisfaction within our career
Allow us time to plan for the future
That can be a tall order for small business owners, many of whom are working 60-hour weeks with little time for anything else—including retirement planning. I get it. When your business is your passion and your livelihood, it can be hard to step away.
A great financial planner is one who recognizes these challenges, understands your long-term vision, and offers wise advice so you can enjoy your life today, tomorrow and beyond. You may feel like you simply don't have time to plan for retirement. What's more, your wealth might be tied up in your business because it's your largest asset. Let's say your business revenue is $1 million and your salary is $250,000. How might you go about creating more time and saving more money for retirement while working less? That's the million-dollar question. (No pun intended!) Some possible solutions might be:
Working less and making less
Working harder but making more money
Working smarter so that you can invest more and grow your business at the same time
The right path forward will depend on the person. With an effective plan, you can map out an end game and make a strategy to get there.
Folks Recognizing the Value of Human Capital
When we think about investments, our minds tend to gravitate toward stocks, bonds, real estate and the like. There's another asset that can be just as valuable—human capital. It's spun out of the knowledge, experience and value other people bring to your life. Easy to overlook, it can be especially powerful for business owners.
Amid the great resignation, many are finding themselves short staffed as more workers cobble together income from various side gigs. Employee retention is top of mind. If a valuable employee wants to walk away to pursue other things, the cost of recruiting, hiring and training a replacement will usually cost more in terms of time and resources. Working with the employee to find a compromise might be the best solution.
For example, is there a way to invite them to participate more actively in the company's growth and mission? How can you tap into their values and connect them to their work? Can you revisit your expectations for them and possibly consider a more flexible work arrangement that would be more appealing? A skilled financial advisor can walk you through creative solutions and potential strategies that benefit all parties. They understand how all your investments work together, including human capital—which is a real asset.
Clients Knowing Their Worth (and Negotiating Accordingly)
When you're working hard, it can be easy to lose sight of your own value. I've seen this more times than I can count when it comes to compensation. Over the years, I've advised many clients to look at the big picture, recognize their worth, and negotiate from that mindset.
When you're able to see the real value you bring to the table—and confidently advocate for yourself—it can change your financial life for the better. It's more than possible to increase your income by speaking up and pointing to all the ways you're worth it. An advisor who understands your work and your financial goals can help guide you, whether you're negotiating a raise, a one-time bonus, or a compensation package with a new employer.
At JJ Burns & Company, we have decades of experience helping folks work through business problems, family issues and everything in between. The truth is that it can all affect your finances. What's the value of great advice? Priceless. If that rings true, we'd love to set up some time to talk.
financial advisor financial planning wealth management