Traveling comes with all sorts of benefits. Some simple financial planning tips can help you experience them.
Key takeaways:
There are many benefits of traveling, and you probably have some bucket-list destinations on your list.
Planning ahead financially can help bring your travel dreams to life.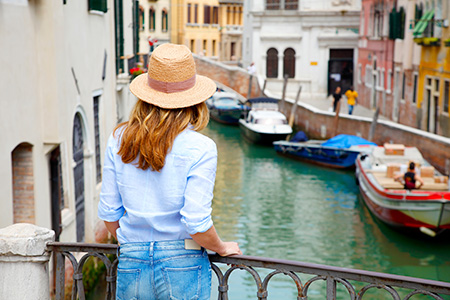 I'm writing this on the heels of a two-week European vacation. As I get back into the swing of things, I notice that my mind keeps returning to the time I spent overseas. Two weeks was an ideal time away because it allowed me to disconnect from work, slow down, and really absorb the experience with people I love—and isn't that what life is all about? I'm reminded of why I travel in the first place. I believe that seeing the world and spending time abroad opens us up to new ways of being.
Whether you're looking to retire abroad or simply see more of the world, there are many benefits of traveling. As a longtime wealth advisor, my philosophy is to help folks use their wealth to support their values and dreams. For many, that includes traveling.
Benefits of Traveling
Let's first unpack some of the biggest advantages of traveling. That includes the chance to:
Experience other cultures, traditions, and customs.
Get out of your comfort zone and grow as a person.
Gain new perspectives.
Connect with people and make new friendships.
Reduce stress and find new ways to decompress.
Foster your creativity through inspiration.
Increase your environmental consciousness.
Make new memories with people you care about.
3 Financial Planning Tips for Travel Lovers
1. Make it a Priority
At the end of each year, ask yourself what kinds of trips you'd like to experience in the year to come. Bringing your family or significant other into the mix can help you brainstorm. It might be a European cruise, an African safari, or a trip to the Hawaiian Islands. Whatever your travel goals, they won't happen if they remain a dream inside your head. Make it a priority and begin researching things like:
The best time of year to go
Who you'll be traveling with
What the trip will cost
How you'll pay for it
2. Prepare Your Finances
You might be able to cash flow your travel expenses with money from your regular monthly budget. If that's the case, be sure to plan accordingly and begin setting money aside now. For example, you could decide on a monthly savings target and set up automatic transfers to your savings account for that amount. You can begin booking your travel arrangements using a rewards credit card, then draw on your travel fund to cover the bill.
Traveling abroad may require some more in-depth planning, especially if you're a retiree. A wealth advisor can prove useful here, especially one who really "knows you." They can recommend the most tax-efficient ways to fund your travel goals without disrupting your long-term financial plan. If you plan on staying abroad for an extended time or working in another country, they can fill you in on what to expect from a tax perspective. Moreover, a seasoned advisory firm has typically prepared others for situations like this, offering valuable insights into your overall planning.
3. Take Extra Financial Precautions
Whether you handle the travel plans yourself or work with a travel agent, it's wise to make refundable arrangements and consider trip cancellation insurance. That applies to airfare, hotels, you name it. Life likes to throw curveballs our way. If you come down with the flu the day before your big trip, you want to make sure you can easily change the dates. Some policies even cover lost bags.
During this last trip to Europe, I enjoyed an absolutely amazing cruise through the Mediterranean. It was a dream—but for another passenger, it turned into a bit of a nightmare. This person fell and broke their leg on the ship. My heart went out to them, and the whole situation made me realize how important it is to get travel health insurance. The right policy can protect you if you get hurt or become ill while traveling and need medical care. Medical evacuation insurance is another add-on that covers emergency transportation back to the states. Hopefully, you'll never need it—but if you do, you'll thank yourself for planning ahead.
If you want to experience the benefits of traveling, catching up with your financial advisor should be on your list. Strategic financial planning can allow you to fund your next dream vacation without the stress. Our team at JJ Burns & Company is here to help you turn those travel dreams into a reality. Contact us today to get moving.