As a kid, you waited all year for summer. It was the time in which getting up early, going to school, doing homework and taking tests, ceased to exist.
Of course, now that we are adults, we don't get the summer off—nor do our finances.
Cash flow and tax planning play a part in our financial plans for the year. However, with the summer vacation months, those plans can sometimes fall off track.
Keep reading to find out how you can avoid a sharp summer's hit to your finances, and still maintain a work/life balance that can help you further enjoy the mid-year vacation months.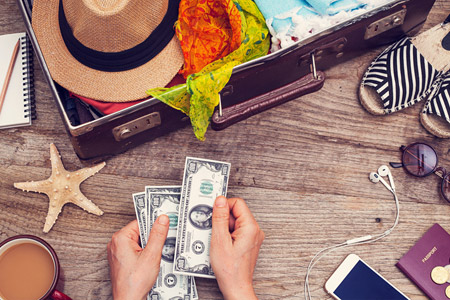 Know Your Cash Flow
Within reason, your finances shouldn't get in the way of your enjoyment of the summer vacation months.
Even if you have mortgage and car payment obligations in addition to adhering to your year-long financial plan, this doesn't mean you can't have some fun in the summer sun.
Check out your cash flow to see what you can afford to do with your family this summer. Make sure what you plan to spend does not affect your emergency fund (which should be six months' worth of your yearly salary).
Plan Your Taxes
Next, see if your taxes are in order. For instance, are all your taxes paid? If you're self-employed, have you made the correct estimated tax payments? Look into what you might owe federally or to the state where you live. Make it a point to also verify your property tax is paid.
Plan ahead for your deductions and credits before the tax year ends. You can maximize your deductions by making charitable donations, contributions to qualifying retirement accounts, or deposits to your health savings account (HSA). Consult your wealth manager for the maximum amounts you can contribute to avoid a tax penalty. Also, be sure to keep good records to make the tax filing process easier.
Introduce Your Kids to Finance
It's never too early to teach your kids about finance, and summer can be your perfect opportunity to teach them financial value and responsibility.
For instance, for your younger ones, consider giving them a set amount of money for the summer, and then teach them how to budget to make the most of their money until the start of school. Suggest that they perform small odd jobs around the house, such as cleaning the yard or washing the family cars to make money that can further supplement their summer savings.
Your older kids can also learn financial life-long lessons this summer by becoming more independent. For instance, let them grocery shop or cook for themselves as well as their friends instead of going out to a potentially expensive lunch or dinner.
If your son or daughter drive to a job or paid internship this summer, encourage them to pay their fuel expenses, and of course auto insurance. Doing so will help them understand the importance of keeping up with not just their financial responsibilities, but also their real-world responsibilities.
Give your older kids other ideas to help build their financial independence. If your son or daughter has plans to attend music festivals or take summer weekend trips with friends, encourage them to work, save toward their goals. Paying for their own recreation or time away from home can have a monumental financial impression on them that could last a lifetime.
Vacation Within Reason
Okay, so maybe this summer you don't feel like spending thousands of dollars on that villa in Tuscany. That doesn't mean you can't enjoy the summer months while being a bit closer to home.
If the beach or the mountains are near, spend a couple weekends this summer playing in the waves or staring at the majestic high-altitude views. Doing so will be much more cost effective than going on an expensive vacation, especially abroad.
Also, for the fun of it, check out your local paper's real estate section to find out if any timeshare resorts near you might be offering free weekend stays. If all you have to do in return is attend a seminar for potential timeshare buyers, the cost might be worth it.
Celebrate Smart, Particularly with Summer Weddings
All of us know weddings are expensive, particularly with some nuptials rising into the tens of thousands of dollars.
If someone in your household is getting married this summer, try to be fiscally responsible in spite of the fact that this is a special once-in-a-lifetime event for you, your son or daughter.
For instance, with weddings, budget experts suggest the event not be held on Saturday, but instead on a Sunday, or any other day of the week. Many hotels and resorts charge more for Saturday weddings as opposed to other days of the week.
Try to get married at the end of the season. You can save a good amount if yours' or your son or daughter's wedding is held in late August or September, as opposed to June or July.
Budget experts and wedding savers also suggest that you find a venue that doesn't require you to use "in-house" vendors. Try to find a marriage and/or reception location where you can bring your own catering.
Additional savings can also be realized if the wedding and reception are held in the same location.
A Better Work/Life Balance
Summer is when we recharge ourselves, start new, and strengthen up for the remaining six months of the year.
In order to make the most of your summer, it's important to have a written plan of what you want to accomplish. Keep track of your finances, your taxes as well as any additional expenses this summer, such as a wedding or travel, and you'll have a better chance to enjoy some quality down time without breaking the bank.
If anything, your work/life balance deserves it.
financial planning summer tax planning