New year. New you. As we go into 2017, we're all fired up to make improvements: diet, exercise, relationships, finances.
What do you want to accomplish this year—and in the future? It all depends…on your goals. Ever wonder why most new year's resolutions fail? It's because most people don't go through the goal engineering process. (Yes, there is a science behind that.)
X person from the evening news suggests you should do this, you read Y in The New York Times, you heard Z on a popular podcast, and who knows what's going to happen with the incoming administration.
The only thing to do is to take charge of your situation. Again, it's about what you want to accomplish. It could be spending more time with family, getting up at 5 a.m. to exercise with a buddy or a trainer, learning a new language…or also figuring out what you want to achieve financially this year. Perhaps just pick one to start with.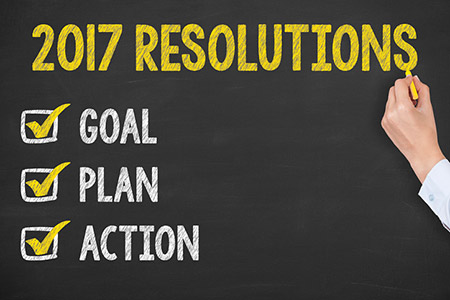 There's no time like the present to tackle whatever it is you want to do. Just like you have other advisors to help you in certain areas, begin the new year by taking charge of your finances. Base your future on what is important to you, not by a popular article you read or what you heard from an arbitrary commentator.
Instead, knowledgeable wealth advisors suggest that you take the following steps:
Envision your goals and write them down. It helps you and your financial advisor to have a tangible document of where you want to go this month, the next six months, a year, and going forward. Some people jot things down on a legal pad, others prefer creating an Excel spreadsheet, while others are more visual and like to include pictures of their goals—such as a trip, a new home or their ideal retirement—into their yearly financial plans. It doesn't matter what your method, only that you take it out of your head and put it on paper, Pinterest, or your iPad.
Anticipate the obstacles. Any worthy goal has obstacles.  Fleshing out the obstacles in advance and writing out how you will move through them will eliminate the excuse of not being able to achieve it.  Think about potential roadblocks, like "impulse purchases" or expenses that you could have anticipated, which will derail a long-term savings plan.
Enact your written plan. Whether it's saving a certain amount a month for a vacation, putting money away for retirement, making sure school tuition is paid for, taking care of aging family…it all takes consistent action. Once you've envisioned your goals, how are you going to get there?
Take control of your habits. Your habit to regularly save, your habit to maximize your tax advantages, and your habits to invest greatly influence your ability to make your financial plans successful. And, of course, have a habit to direct funds to what makes you happy—whether it's giving to charity, helping a family member with college tuition, expanding your wine collection, or creating memorable experiences. Great investing and savings strategies are not temporary things you do at the beginning of the year like all those other resolutions. Simple things such as automatic deductions to your designated accounts can help you easily reach your goals without even thinking about them.
Don't try to time the market. Instead, think about what you want your future to look like. Then go beyond wishing and take action on your future plan. Over the years, financial advisors have found that using consistent asset allocation in your plan may help you to meet or surpass your financial goals.
Create realistic expectations. No matter how thoroughly you plan your financial portfolio, even experienced investors have down years along with profitable years. In some years, you may need to make up for losses in certain investment or 401(k) accounts—and in others you may be experiencing significant growth. By talking with a financial advisor, you can make appropriate adjustments to help meet expectations.
Monitor your goals. Few people have static financial situations. Which is why a quarterly review with your financial advisor can help keep you on track or give you informed guidance to fine-tune your plan.
Be flexible to change. For some people, this is more easily said than done. However, we can't control everything. Circumstances can alter, goals can adjust, markets can change. Working with a trusted advisor, you can work through uncertainties to keep working toward your goals.
Don't get discouraged. If one of your goals has been to lose weight, perhaps you've reached a plateau at some point; if you've ever remodeled or built a house, you've definitely run into unexpected delays. The same holds true for investing. There are bound to be highs and lows along the way. We live in a world of immediate gratification so it's natural to want to give up the minute something doesn't turn out as anticipated. But sage advice is like a good wine—it works over time and only gets better with age. Working with an experienced advisor can help you navigate your financial and life changes. Your plan is the glue that binds you to your future goals, and it will keep you on track and in a positive frame of mind.
The start of a new year is an excellent time to take stock of what you want to accomplish in 2017, and a big part of that includes financial planning. At JJ Burns & Company, we're here to help you achieve your goals this year—and for the future. We hope you make 2017 your best year yet.