Whether you have been married for a year, or several years or longer, getting divorced can be difficult—certainly emotionally, but also financially.
With the right mindset and planning, divorce doesn't have to drain your financial assets. Instead, there can be negotiations that benefit both parties.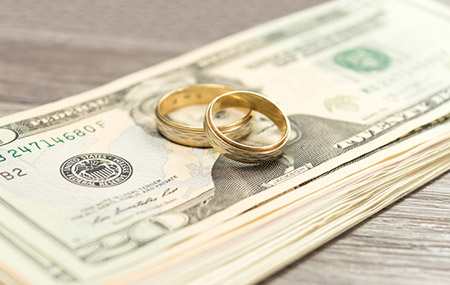 For most, divorce is not always easy. There may be property, children, businesses, and debts that need to be addressed. Before the papers are signed, people should know what they want to accomplish when they dissolve a marriage. Is it wealth preservation, child custody, asset protection?
Few people want to think of marriage in business terms. It's not romantic at all. And when you get married, you hope that it will last forever. For some, relationships can run their course.
Your State of Residence Matters
According to lawyers, the simplest divorces are the ones where it's simply dividing up property. Nine states are community property states: Arizona, California, Idaho, Louisiana, Nevada, New Mexico, Texas, Washington, and Wisconsin. This means that whatever you earn, or property that you acquire during the marriage, is subject to a 50-50 split when you divorce.
In all other states, it's a bit more complicated. Take the hypothetical case of Katie who was married for 16 years, has two kids, and helped build her husband's dentistry business by introducing him to key people in the community.
Legally, she is entitled to part of the value she put into the business, as well as some of what the couple both earned and saved during their marriage, and a portion of the house and other assets. This all takes time to sort out.
A Formula for Support
Family courts have a formula to determine an amount of support. In New York, if you have one child, you will receive 17 percent of the salary from the non-custodial parent, two children may receive 25 percent, and three children may receive 29 percent of salary.
Even so, if you've been a stay-at-home mom like Katie who has put her career on hold to raise kids who attend private school, suddenly getting a high-paying job to support your family can be a bit unrealistic. How is she going to continue her—and the kids'— lifestyles?
It all comes down to a valuation of Katie's participation in her former husband's business and family responsibilities, and then strategic negotiation to give her a desirable result.
What it also means is for her to take herself out of the emotional equation of the divorce, and assemble a team of financial specialists, lawyers, and mediators who can work with her best interests in mind. It also gives Katie the resources to communicate "individually" with each team member, "checking and balancing" the advice given to minimize or eliminate conflicts of interest, so she gets the results she desires.
It's a smart move for both sides. Depending on the situation, a collaborative team can cost much less than a litigious divorce lawyer.
Getting Wise Counsel
Most of us take out insurance to protect ourselves in case something happens. A review with a financial professional in the case of a divorce is the same thing—protection. To learn more, download our divorce toolkit "Suddenly Single: What to Do When You're On Your Own Financially" and get the proper guidance on how to protect your assets and financial future.